First | Previous | Next | Last
The Key to the True Quabbalah

- The Quabbalist as a Sovereign in the Micro- and the Macrocosm

(1957)
This Edition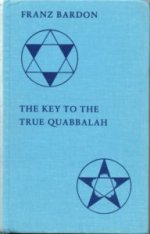 | | | | |
| --- | --- | --- | --- |
| Published | 1975 | First edition | No |
| Format | Hardcover (212 x 133mm) | Edition | 2nd (rev.) |
| Publisher | Rüggeberg Verlag | Printing | |
| ISBN | 3-921338-03-4 | Printed by | Staats-Verlag |
| | | Country | Germany |
| Series | | No of pages | 272 |
| Volume | | | |
Notes
This volume is an expose on the symbolism of the third Tarot card -- depicting the 10 quabblistic keys, which are identical with the ten Hebrew Sephiroth.
    In it, Franz Bardon demonstrates that the understanding of sound, color, number and vibration -- the true Quabbalah -- is a universal teaching of great antiquity and depth. Although it stands on its own, this volume is intended primarily as a working text for those who have completed Bardon's first and second works on magic.
    In Share International, No.5, June 2006, Benjamin Creme confirmed that this third book by Bardon was also inspired by the Master Who was Hermes (p.27).
The author states that on earth, every human being has two teachers: first, himself, and secondly, destiny.
First English edition published in 1971.
Links
Original Edition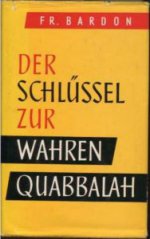 | | |
| --- | --- |
| Original title | Der Schlüssel zur wahren Quabbalah |
| Original subtitle | |
| Original publication year | 1957 |
| Original publisher | Verlag Hermann Bauer |
| Original country | Germany |
| Original language | German |