First | Previous | Next | Last
Livets Bog (The Book of Life) 4

(1944)
This Edition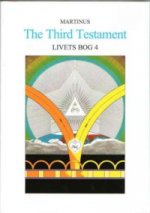 | | | | |
| --- | --- | --- | --- |
| Published | 2008 | First edition | Yes |
| Format | Softcover (248 x 175mm) | Edition | First English edition |
| Publisher | The Martinus Institute of Spiritual Science | Printing | 1 |
| ISBN | 978-87-575-0604-4 | Printed by | |
| | | Country | Denmark |
| Series | The Third Testament | No of pages | 507 |
| Volume | | | |
Notes
This fourth volume of Livets Bog deals with "Eternal life".
It reveals God in the living being and vice versa. Related topics include: The unity of eternity and time. Spiritual worlds. Initiated beings and 'dead' beings. The purpose of the physical world. The Bible and spiritual science. Politics and religion. Criminal law and Christianity. Democracy, dictatorship, capitalism, communism and the united states of the world. The history and fate of the Jews. The difference between the Old and the New Testaments. Marriage and universal love. The symbol 'Life and death' is explained.
This volume was originally published between 1944 and 1946 in subscription form as Livets Bog 4. The second edition (compiled) was published in 1983 as Det Tredie Testamente -- Livets Bog 4. Volume 3 is not yet available in English [Oct 2008].
Links