First | Previous | Next | Last
This Edition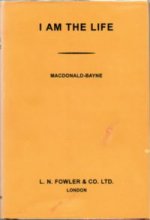 | | | | |
| --- | --- | --- | --- |
| Published | 1946 | First edition | Yes |
| Format | Hardcover (190x130mm) | Edition | |
| Publisher | L.N. Fowler & Co Ltd | Printing | 1 |
| ISBN | | Printed by | W.&J. Mackay and Co. Ltd. |
| | | Country | UK |
| Series | | No of pages | 160 |
| Volume | | | |
Notes
Sequel to The Higher Power You Can Use and a further elaboration on the practical implications of the esoteric meaning of the Bible.
    This volume concludes with 'An address delivered by Dr Murdo MacDonald-Bayne' in Johannesburg, September 19th, 1944, "Revealing the basic principles for solution of personal problems and world reconstruction." In it Dr Mac refers to his journey into Tibet, where he was taught by the Masters, which he describes at length in Beyond the Himalayas and The Yoga of the Christ. He also relates how one of the Masters told him the parable of the disciple and the devil who, "when walking together one day happened to see someone picking something up. The devil said to the disciple: 'Did you see that person picking that up? It was a bit of the Truth.' 'Is that so?' said the disciple,'that's just too bad for you, devil.' 'Oh no,' said the devil, 'I'll just wait until he organises it! " (p.157) The same parable was cited by Krishnamurti in the speech in which he announced the dissolution of the Order of the Star in the East in 1929.
    More importantly, the author points to the practical application of the teachings, which is as topical now [2008] as it was then: "It is important for the individual to become vitally aware of his place in the scheme of things, that he understands that no lasting improvement in human relationship can result until the individual realises the indivisibility between himself and his fellow-men." (p.144) Excerpts of his address were published in Share International, October 2006.
Re-published in paperback by Mystica Publications Ltd, New Zealand (2006).
Links