First | Previous | Next | Last
Answers to Questions Most Frequently Asked About Our Space Visitors...

(1965)
This Edition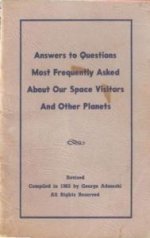 | | | | |
| --- | --- | --- | --- |
| Published | 1965 | First edition | Yes |
| Format | Saddle-stitched brochure | Edition | |
| Publisher | George Adamski | Printing | |
| ISBN | | Printed by | |
| | | Country | USA |
| Series | | No of pages | 30 |
| Volume | | | |
Notes
A 30-page compilation of a selection from the questions and answers that were orginally published in the 5-part Cosmic Science series, although completely revised.
A selection of 21 of the original questions and answers was re-published in Gray Barker's Book of Adamski. All but the last five were also re-published in the annual international edition of the newsletter for the Japanese chapter of Adamski's Get Acquainted Program (GAP) network, UFO Contactee, between 1987 (No.3) and 1998 (No.13, the last issue).
This is George Adamski's final publication, as he passed away on 23 April (St George's Day) that year.
Links