First | Previous | Next | Last
Ramana Maharshi and the Path of Self-Knowledge

(1954)
This Edition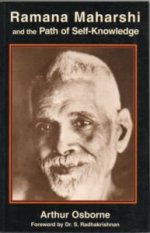 | | | | |
| --- | --- | --- | --- |
| Published | 1995 | First edition | No |
| Format | Paperback (210 x 136mm) | Edition | |
| Publisher | Samuel Weiser, Inc | Printing | |
| ISBN | 0-87728-071-1 | Printed by | |
| | | Country | USA |
| Series | | No of pages | 208 |
| Volume | | | |
Notes
An account of the life and teachings of Sri Ramana Maharshi, whose Path of Self-Knowledge ("Who am I?") is referenced by Benjamin Creme in his preface to The Reappearance of the Christ and the Masters of Wisdom on p.11-12 (1979ed) and in the intro to the chapter 'The Overcoming of Fear' in Maitreya's Mission, Vol.III, p.273.
    The companion volume to this book is titled The Teachings of Ramana Maharshi (Rider, 1962), which contains many of his actual conversations with those who sought His guidance.
Very little is known about Arthur Osborne (1906-1970), who also wrote the first introduction of Sai Baba of Shirdi to Western readers -- The Incredible Sai Baba (1958).
Note: The Ramana Maharshi website provides all their books for free download. However, when the monthly bandwidth limit is reached, the page will be suspended until the following month, when downloads will be re-enabled.
Links
Original Edition

| | |
| --- | --- |
| Original title | |
| Original subtitle | |
| Original publication year | 1954 |
| Original publisher | Rider and Company |
| Original country | Great Britain |
| Original language | |